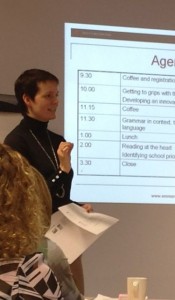 Emma Rogers is a learning and literacy consultant offering professional development packages and training to teachers, schools, networks and local authorities aiming to develop childrens' learning and achievement in literacy.
Emma Rogers is an experienced advisor with an extensive knowledge of literacy, assessment and learning.  She  provides consultancy support to local authorities, schools and networks on a range of projects to develop learning and literacy.
With a varied career as classteacher, senior school leader and teaching and learning consultant, she  worked for several years for the Primary National strategies leading the successful Every Child a Writer programme.  She has a history of raising attainment and broad educational expertise with a track record of effective educational leadership and project management  to deliver a national programme involving over 130 Local Authorities and 1200 Leading teachers.
She now operates as a freelance consultant  offering the design, delivery and evaluation of professional development programmes and materials, drawing on years of experience as an outstanding classteacher.
Emma is an Associate consultant with TT Education and Cambridge International Examinations.  She has worked on the Kazakhstan Integrated Programme of Development project, writing a new languages curriculum and course plans for learners in Kazakhstan.
See Emma's full CV
To find out about the projects, to discuss support for your organisation or to ask for more information please use the contact form.